There Is a Difference In The Huddleston Performance Way.............

2017 HP Assassin 7.90 Turn-Key Car
Here at Huddleston Performance we spent a lot of seasons racing Jr. Dragsters, and the majority of those years ended with us collecting a Championship. Throughout those years we made ALL the mistakes racers tend to make. Everything from having the wrong hardware, to ordering less than we needed to compete at a high level. From those years of both mistakes and winning came a knowledge base unparalleled in the Jr. Dragster industry. That being the case, when the time came to begin production of the Huddleston Performance Assassin Line of chassis's we knew what bells and whistles racers needed to win on the local and national levels.
The difference in the Huddleston Performance way versus our competitors lies in the details and knowledge put into each racecar. Every car that leaves Huddleston Performance is either a Complete Roller or a Turn-Key Car. We do not supply stripped down rollers, to us those are the cars where details are missed and races are lost. Everything from chassis design to location of your taillight to multi-adjustable seats to small details such as heat shrinking each wire connection and loctiting all necessary bolts, we cover all the details to ensure you have a successful run with your HP Chassis.
The Difference is in the details..........
An Intro To Our Chassis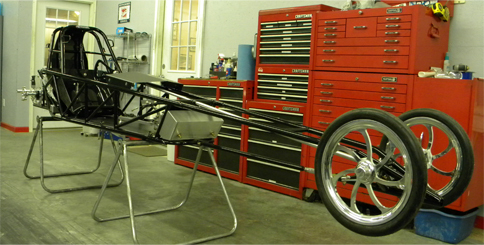 The first difference you will notice is the design of the chassis itself. The Huddleston Performance Assassin Chassis incorporates our Triple Slip Design. This design gives the backhalf of our chassis the movement it needs to firmly plant the tires each and every pass. By taking some of the work load off the rear tire, and putting it into the racecar, it helps to eliminate overhooking and the resulting tire spin and shake on higher horsepower cars. This results in a more consistent racecar from pass to pass.
Next you will notice the HP Three Bar Front Design. Our HP Designed front ends incorporate an adjustment on the lower frame rail to allow you to add or subtract preload based on on your wants. However, unlike other three bar designs, ours does not bind the front of your car up beyond a certain adjustment point.
All Huddleston Performance Assassin Chassis are built using a "Three Bay" drivers compartment. For those of you new to the Jr. world, a bay is the window created between 2 uprights and 1 diagonal in the drivers compartment. By current sanctioning body rules you are allowed to run either a "Two Bay" or a "Three Bay" chassis design if you use the correct spacing. However, here at Huddleston Performance we take driver's safety very seriously. That being the case we strongly believe the more bars holding your driver, the safer they are each time they leave the starting line.
Finally, HP Chassis' are built with a 20" wide cage as our standard setting. This allows your driver room to grow without the need for a new car every year or 2. We also have the capabilities of building a car to suit your driver. If you would prefer a wider or even narrower car we can build it. The amazing part is that we can make your car look just as good as our standard 20" cars. Many of you have seen HP Chassis' that were wider or narrower than standard and you didn't even realize it thanks to our ability to change the bodies to fit. Custom widths must be ordered so allow time for this, and the use of Aluminum bodies is a must on custom widths.
An Intro To Our Components
Billet Adjustable Offset Spindles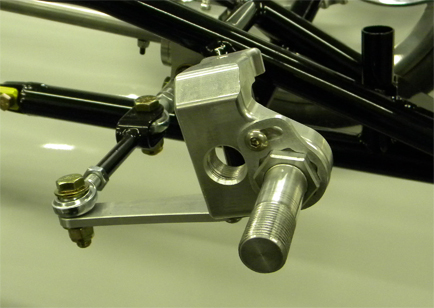 We have worked hard to create the most racer friendly racecars available today. As such it seemed natural to start at the front of the car and improve as we went back. That is why the first thing you will notice on all Huddleston Performance Assassin Chassis's is the use of Billet Adjustable Offset Front Spindles. These newest spindles not only offer a racer more options on raceday, but being made of billet aluminum they are some of the strongest spindles available on the market today.
One of the best features of these spindles is the variety of adjustment you have. Whether you have problems with the beams at your track, or you need to add/subtract rollout for your driver, these spindles allow you to make small changes (without having to re-check or re-set toe in). In a matter of minutes you can have 0 offset, 1" offset, or 2" offset.
In addition to finer adjustments, these spindles are also some of the quickest to change in the industry today. Simply take the positive lock loose, unscrew the wheel stud, change holes and tighten back down. In only a few short minutes you can have any offset adjustment you would like. This is a great option when you find yourself in a time crunch between races!
Adjustable Lower Seat Mount Bar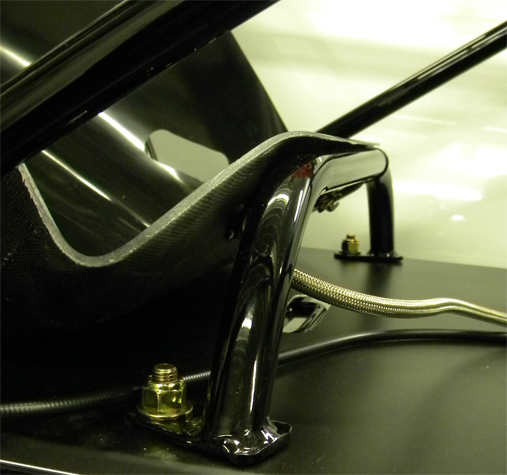 For years we raced with one of the bigger driver's in the Jr. Dragster League. Out growing a number of cars throughout our long career, we didn't want to see other racers go through that same hardship. That is why all Huddleston Performance Assassin Chassis's come standard with an Adjustable Lower Seat Mount Bar.
This innovation has allowed racers to go from 1 or 2 years in a car to an entire career in the same car if they desire. By offering cars that are already 20" wide at the cage (industry standard is 18"), you simply change out seats which lay your driver down more as they grow.
We offer a number of different depth seats to allow your driver ample room to grow throughout their career. Installing the seat is simple: get your new seat, lay the seat in your current car, mark the quarter turn holes and drill them, move Adjustable Lower Seat Mount Bar to its new location and drill 2 holes in your floor board to hold it, install your seat and trim the edges to your desired fitment. In one evening you can completely change how well your driver fits in their ride!
Strange Brakes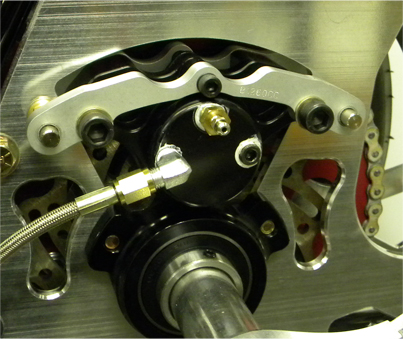 Giving racers the most consistent car is important, but your driver having the ability to stop it is equally important. For many years it was accepted by racers to put kart style brakes on their Jr. Dragster. Very few chassis builders incorporated anything better. The Huddleston Performance Assassin comes standard with a Strange Brake Caliper and lighten 7" Brake Rotor.
The combination of a superior caliper and lightened brake rotor give our chassis' greater stopping ability than most on the market today. These systems give a great stiff pedal to the driver, allowing them to stop easier and safer after each pass.