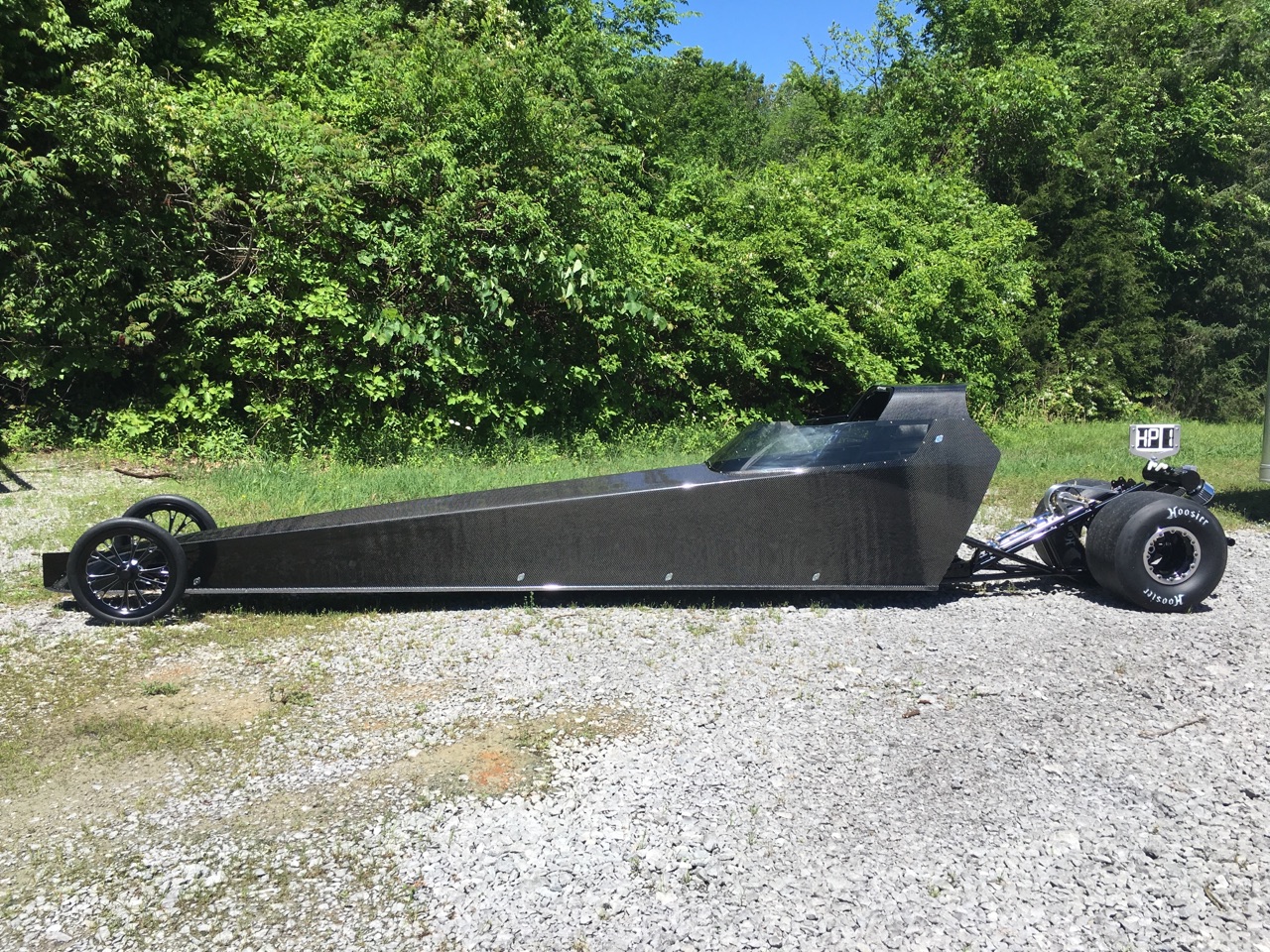 2017 HP Carbon Fiber Assassin
At Huddleston Performance we leave no unfinished details in our Turn-Key Racecars. Each detail is meticulously checked, and rechecked during the assembly of our cars to ensure you have success with them. From every nut and bolt, down to the location of your rear taillight, we have polished our Turn-Key cars to a point of making them the single most user friendly product in Jr. Dragster Racing today.
Not only is the HP Assassin Turn-Key Car the most complete car on the market today, but it also lacks hidden costs. There isn't a large option sheet to run the price up, there aren't hidden assembly costs of making your car turn-key, and there aren't pieces missing when you pick-up your ride. These cars come completely ready to win the first race you enter, at the price you are told. For a complete detailed look at what helps separate our cars from the rest, check them out here.
The HP Assassin is available in a number of configurations. You can purchase anything from a base roller, which is complete even down to 415 Chain and Sprockets, all the way to a Turn-Key Version with any of our HP Packages. We can set you up with the latest 11.90, 8.90, 7.90, or even LO206 combinations today. For pricing on all these keep scrolling!
2017 HP Assassin Turn-Key Racecars
(Some items standard on Turn-Key Cars, not on Rolling Chassis')
4130 HP Designed Chassis

3 Bay Chassis Design (long foot box)

Single Color Powder Coat

16" Billet Front Wheels (Your Choice)

TF 100 Front Tires

*NEW* 2" Adjustable Billet Front Spindles

Aluminum Floor/Foot Box

E-Z Adjust Aluminum Pedal Assembly

Billet Master Cylinder

Braided Brake Line

Strange Brake Caliper

7 Inch Steel Lightened Brake Rotor

Throttle Cable

Seat Location/Cage Height Based On Driver

Lever Style Seat Belts (Color of Chioce)

Roll Bar Padding w/ Helmet Pad

Quick Release Steering Wheel

Helmet Hook Installed

*NEW* Billet Aluminum Parachute Handle Emergency Shut-Off

Kill Switch Wiring Block

Dial-In Board (Choice of Location)

Exit Handles

Professionally Wired w/ 2 Kill Switches

HP Round Windshield (Standard or Extended)

Fiberglass Body (Black)

Coated Deflector Shield

Weight Bar

Mychron 4 660 Tachometer w/ Mounting Bracket and J.S. Sensor Mount (Standard on Turn-Key Cars)

*NEW* Aluminum Fuel Cell w/ Large Mouth Inlet

Aluminum Dual Filter Puke Tank

*NEW* Heavy Duty Aluminum Chain Guard

Aluminum Belt Guard (Standard on Turn-Key Cars)

Rear Lift Bar

415 Chain and Sprockets

Billet Aluminum Tail Light Assembly

3 or 5 Spoke Douglas Wheels and Mickey Thompson Tires

HP One-Piece Rear Axle Assembly

HP Dual Crank Support (Standard on Turn-Key Cars)

*NEW* HP Weld On Billet Motor Plate

w/ integral j/s sensor mount

HP Jackshaft Support (Standard on Turn-Key Cars)

HP Sniper Package (Standard on Turn-Key Cars)
Prices : $6,895 Base Roller
$11,095 11.90 Turn-Key
$12,395 8.90 Turn-Key
$12,995 7.90 3.5" Lite Turn-Key
$13,495 7.90 XL 3 5/8" Turn-Key
$14,145 Quick 32 Beast Turn-Key
Options:
(Call For Pricing)
Carbon Fiber Body

Carbon Fiber Interior

Dual Element Rear Wing

Cam-Lock Seat Belts

Roll Cage Canopy (Fiberglass or Carbon Fiber)

Bead-Lock Wheels

Powder Coat Wheels

Additional Weight Bar

Front Wing

SFI Big Tube Upgrade